These boots were make for working - Your guide to Safety Footwear
These boots were made for working - Your Guide to Safety Footwear.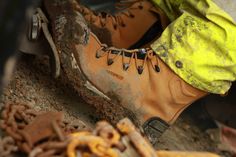 Keeping in line with our other articles here comes some more free, common sense advice to help keep your workers safe and healthy when it comes to the selection, provision and wearing of Protective Safety Footwear or "Steelies" as they are affectionately known amongst tradesmen.
Once again we are concentrating on "tradesmen" undertaking physical works within construction, engineering, demolition and manufacturing based environments.
Most people in these sectors will be wearing safety footwear all day long; paying attention to detail and spending your money wisely will pay dividends in the long run - buying cheap boots is a false economy!
How do I select protective footwear?
When selecting any personal protective equipment (PPE) you have to identify the potential hazards - how can you be harmed? Do you need increased grip, puncture protection, ankle support / protection, toe protection or protection from ingress of liquids...
What type of environment will you be working in? Are the floor conditions cold, hot, wet, dry, icy, dusty, muddy. What contaminants are present? Dust, chemicals, bitumen, concrete, paint, biological hazards, fuel, oils...
Once the potential hazards have been identified, ensuring that the boots are the right specification and compliant to the relevant European standard is paramount, as is ensuring a CE mark is present.
So, the standards, what do they mean. As a guide for most "trades", selecting a boot compliant to EN ISO20345:2004 (subsequently 2007 & 2011 dependent on date of manufacture) would be a good start, as a minimum they will have a 200J toecap plus some additional properties, given below.
What do the markings mean on safety footwear?
P = Penetration resistance
C = Conductive
A = Antistatic
HI = Heat insulated
HC = Cold insulated
E = Energy absorbing seat
WRU = Resistant to water penetration (upper)
HRO = Hot contact resistant (Outsole)
Generally...
(Class 1 - Leather or other materials but not "rubber")
SB = Safety Basic
S1 = As Above + closed & energy absorbing seat, antistatic
S2 = As above + water resistant
S3 = As above + penetration resistance and cleated sole, i.e. has a "heel"
(Class 2 - "Rubber")
SB = Safety Basic
S4 = As Above + energy absorbing seat, antistatic
S5 = As above + penetration resistance & cleated sole.
Well, that was complicated! If I was a trades man such as a brickie, joiner, plumber, scaffolder, spark... what safety boots would I be buying? A class 1 S3 boot.
What if I was working in a wet environment such as the ceramics industry?... a Class 2 S5 boot.
Here you will a full breakdown of European Standards and marking for safety footwear
Try on a range of boots before making your purchase to ensure they are both a good fit, and comfortable. When trying footwear on ensure that you are wearing socks of the same thickness that you will be wearing at work.
Wearing safety boots and foot care.
Now that you've selected a comfortable, correctly sized and appropriately specified boot it's time to start breaking them in!
Starting with socks; a good quality thick, wicking sock will make the boot more comfortable to wear. They will ensure that your feet won't get too cold nor will they get too hot, the wicking effect will remove sweat away from the soles of your feet keeping them in good condition.
Many workers complain of "trench foot"; ways in which you can prevent this include cleaning your feet with antibacterial soap at the end of the working day, selecting cotton rich socks, and laundering them on a hot (90 degrees) wash, using anti fungal and antibacterial foot powder, as well as changing out of your work boots when they are no longer needed to be worn.
The importance of laces; an unfastened lace creates a trip hazard for starters! It is important to ensure that your boots are laced all the way to the top, utilising all available eyes / hoops / hooks. Fastening your laces is paramount to prevent rubbing on the heel, to prevent the ingress of contaminants and to ensure that maximum ankle support is achieved.
Ensure that trousers are worn over safety footwear so that any contaminants will fall to the floor instead of into the boot; this is especially important if you are working with bitumens, cement or other potentially hazardous materials.
Safety footwear care and maintenance.
Keep your footwear clean and ensure that the majority of contaminants are removed from the sole of the boot before entering clean areas or removing your footwear. Consider what is on your footwear, you don't want to be traipsing asbestos*, bacteria or hazardous chemicals into your van or home!
A range of leather care products are available to keep your footwear supple, comfortable and waterproof. After removing and cleaning your footwear it should be allowed to air dry and then stored in a place where your boots cannot become soiled or damaged.
If your boots become contaminated with fuel, adhesives, lubricants, solvents etc. then they should be removed immediately, as prolonged exposure to such substances can damage the skin. If these substances cannot be cleaned from the footwear then the footwear should be disposed of.
Replace laces when snapped or frayed; replace the entire boot if the steel toe is showing as this conducts electricity and could also generate sparks i.e. a source of ignition.
Can I wear "Rigger Boots" on site?
Well, this will be down to site rules and the risk assessment undertaken during the initial selection process. They have pros and cons; they lack ankle support and can come off easily if not correctly sized; however they can offer increased water protection for "muddy" environments and are easily cleaned compared with a traditional laced boot.
So, there it is, our basic guide to Safety Footwear. Remember to always wear your safety boots when required to do so! Your footwear is important as it is the only point of contact between you and the ground; they will be worn for long periods of time so please do spend that little bit of extra time and money in getting the selection right!
Take care and stay safe!
If you enjoy reading our articles, please feel free to share them by clicking the tab(s) below.
*It almost goes without saying but only fully trained staff wearing easily cleanable footwear and additional PPE / RPE should be working with asbestos!
---
More Articles